Welcome
The Weavers Guild of Miami Valley, Inc. was organized in 1949 to promote interest in handweaving. Today the Guild is a non-profit, educational organization promoting handweaving, handspinning and the textile arts. The Guild offers educational programs in fiber techniques and processes and encourages artistic awareness and excellence in the textile crafts through lectures, discussions, exhibits, workshops and demonstrations.
---
The President's Column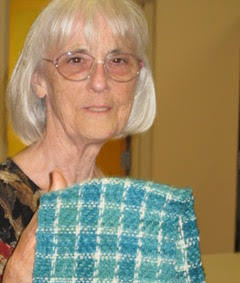 Dear Members,
Rebecca has put together a great idea for the December meeting. There are some special surprises, but if you are not tuned into Zoom on Tuesday, December 8 at 6:30pm, you'll miss them. Please join us, think of it as a special Holiday present, we all need one of those.
Right now I am working on setting up the December sample weave titled "Red and Green Checks". It's an eight harness weave and looks like snowflakes in each check, done in red and green for the Holiday.
That is all I have this month. Things have been rather dull, but maybe that is best. Have a good Winter Holiday and stay healthy.

Kay Bertrand
President WGMV
Kay Bertrand
WGMV, President 2019 – 2021