Welcome
The Weavers Guild of Miami Valley, Inc. was organized in 1949 to promote interest in handweaving. Today the Guild is a non-profit, educational organization promoting handweaving, handspinning and the textile arts. The Guild offers educational programs in fiber techniques and processes and encourages artistic awareness and excellence in the textile crafts through lectures, discussions, exhibits, workshops and demonstrations.
---
The President's Column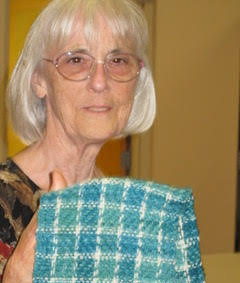 April 2021

Dear Members

Maybe spring has arrived, it does feel good to go out and not be bundled up like an Eskimo. But I'm still not ready for short-shorts and skimpy tank tops as I've seen around here this past week. That's more like July weather.
I have a slate of officers for 2021-22 to present to the guild:
President – Virginia Moody
Vice-President – Kay Bertrand
Secretary – Karen Schnee
Treasurer – Diana Nelson

If you have someone else you would like to run for office, we will take nominations at the April Zoom meeting.
I am looking forward to the April program. I had read several articles about Martina when I was visiting in Bloomington (my son-in-law is the head of the Physics Dept. at IU and we have a cabin on Lake Monroe). Plus I've been to a few art shows in Bloomington and talked to Martina and admired her work. I feel she will provide a fantastic workshop some time in the future, but check out her web site and look at her amazing 3-D tapestry weaving. And don't forget to tune into the Zoom meeting and see her presentation. We'll do a short meeting afterward.
And put May and June meetings on your calendar, we will be meeting in person, outside, but still it's a good way to end our year. Hope to see you at all our meetings.
Also, have you received any info on the Handweavers Guild of America Kitchen Towel Exchange? It sounds like fun. You weave five towels this summer and send them in by August and you'll get 5 different ones back by Sept. 30. Check Handweavers Guild of America web-site and consider taking part.
Get your vaccine shot!
Kay Bertrand
WGMV, President 2019 – 2021